Annual Grant Scheme – Supporting Young Talent
The 2019 Annual Grant Scheme is NOW CLOSED
For application & eligibility criteria, please contact the research.foundation@rveeh.ie
An important aspect of the Research Foundation's work is to nurture and support young doctors in the fields of Ophthalmology and Otolaryngology. It is with new research and innovations that we work towards novel treatments for disease. It is imperative that any project funded by the Research Foundation must have real and tangible translational benefits for patients and add to developments in the field.
In 2018, through its Annual Grant Scheme, the Research Foundation funded three new and exciting projects being undertaken by young Royal Victoria researchers. Below are some details on these projects and their potential impact.
Dry eye disease (DED) is the most common patient presentation that ophthalmologists encounter, affecting 5-30% of the population aged 50 and over worldwide – this is more than that of Type II Diabetes, cancer, and heart-related problems.
In its mildest form, DED can cause discomfort, irritation and vision distortion. In its severest form it can cause ulceration, corneal damage and loss of sight. Regardless of severity, like many other eye conditions, DED has a serious adverse effect on the quality of life of patients.
This is a study of the network of small molecules (microRNA) on the surface of the eye which can inhibit the production of cellular proteins which cause inflammation.
With what we will learn from this research, combined with a newly formulated nanocarrier formulation already developed as part of this study, it is planned to develop a antagomir, or 'blocker' to prevent the production of the inflammation causing proteins and also encourage ocular repair.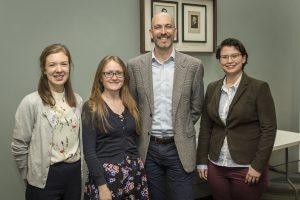 Emily Greenan, Joan Ni Gabhann, Prof Conor Murphy and Christine Goodchild.
Click here to read more about the study
Age-related macular degeneration (AMD) is the leading cause of central retinal vision loss worldwide. Over 100,000 people in Ireland, over the age of 50, suffer with AMD. New cases of AMD are diagnosed at rate of 7,000 per year and it is the country's leading cause of sight loss.
The retina at the back of the eye allows you to perceive light and to convert light into a form of energy that allows our brain to form images.  Essentially, the retina can be considered as an accessible part of the brain.  Similar to the brain, the retina requires a constant supply of oxygen enriched blood and has an intricate network of blood vessels.  These blood vessels are easy to see when an eye doctor examines your eye.  The study being proposed will allow us to determine how these blood vessels may differ in integrity at various times of the day and how this might relate to the development of the common form of blindness in the elderly, namely, age-related macular degeneration (AMD).  We hypothesize that discrete changes in these blood vessels with age, may pre-dispose some people to developing AMD during their lifetime.  In understanding the basic mechanisms underlying this disease, we may be better able to develop new forms of therapy.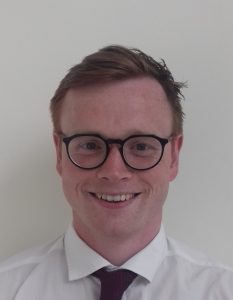 Dr. Alan Hopkins


Dr. Alan Hopkins and Dr. Natalie Hudson
presenting at ARVO 2019
There are an estimated 5000 patients in Ireland suffering from an inherited retinal disease (IRD). The goal of our collaborative study 'Target 5000',  through genetic diagnosis, to better enable these 5000 individuals to obtain a clearer understanding of their condition and improved access to potentially life changing therapies.
There are up to 800 people living in Ireland with juvenile onset Stargardts disease, an IRD,  is one of the leading causes of blindness in under 18's worldwide and causes progressive loss of central vision.
It is most commonly associated with mutations in what is known as the ABCA4 gene. During the course of the Target 5000 study, researchers have identified many people who have mutations in ABCA4, however analysis has shown many of these do not correlate with the established pattern of well characterised Stargardts Disease previously known.
This exciting and important piece of research aims to combine the comprehensive clinical study of a patient's genotype (from the inherited gene) and phenotype (a genetic reaction to an environment) to represent the full spectrum if ABCA4 disease in Irish patients.
Studies of this type are vital to developing a greater understanding of each syndrome and are crucial to ongoing pursuit of new genetic therapies for inherited conditions.
Dr. Niamh Wynne

Dr. Wynne presenting a poster on her ABCA4 
Study at ARVO 2019