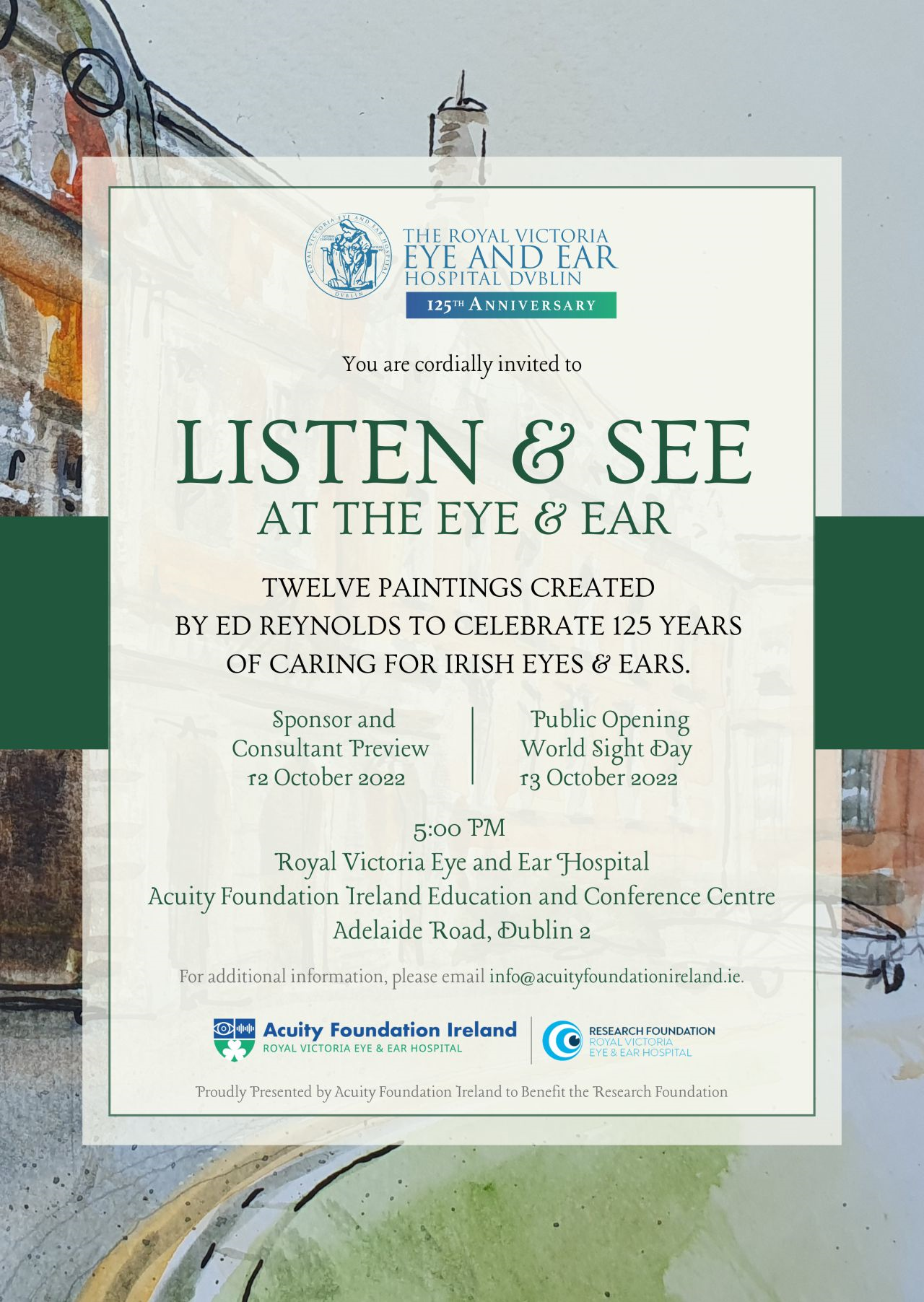 Ireland's only specialist hospital for ophthalmology and otorhinolaryngology, the Royal Victoria Eye and Ear Hospital has announced that it will be hosting a special paintings exhibition at the hospital on Thursday 13th October at 5pm.
Titled 'Listen and See at the Eye and Ear' the exhibition will commemorate the 125th year of the hospital on what is World Sight Day.
The twelve paintings that are featured in the exhibition are by Belfast based artist Ed Reynolds. Ed was based at the Royal Victoria Eye and Ear Hospital from the 31st of August to Friday 2nd of September when he created these fantastic new works for the 'Listen and See at the Eye and Ear' exhibition.
This will be Ed's fourth exhibition of works in his 'Listen and See' series, which also included 'Listen and See Bunclody' (2021), 'Listen and See Belfast' (2022) and 'Listen and See Holywood' (2022).
Ed is a Belfast based artist and member of the Vault Studios collective on Tower Street, Belfast. He was born in Dublin and grew up in Ashbourne, Co. Meath. He works independently as a commissioned painter, illustrator, caricaturist and also facilitates creative workshops for arts organisations throughout the province.
Christopher Clinton Conway, Managing Director, Acuity Foundation Ireland, said: "We are delighted to celebrate the 125th year of the Royal Victoria Eye and Ear Hospital on World Sight Day with this fantastic exhibition. Since the hospital was founded, its departments have treated 109,800 patients per year.  The hospital continues to be a leading contributor to medical research.
"We are really excited to be hosting the fourth exhibition from Ed Reynolds' brilliant 'Listen and See' series here at the Royal Victoria Eye and Ear Hospital". Ed manages to capture the simplicity of the 'every day', transforming the transience of a town and its surroundings, into intimate, timeless artworks with a vision and sound that will forever immortalise a time & place."