The support shown for this year's mini-marathon in aid of the Eithne Walls Research Fund has been truly humbling.
We raised an amazing €10,137!
It was really special to remember Eithne in such a great way, and it makes a huge difference in helping us continue our work – we are very grateful.
The Eithne Walls Research Meeting took place on 20th June, click here for more on the meeting and this year's winners.
To all those who ran, walked, took part in anyway, and very kindly donated – Thank you!
It is 10 years since the ill-fated flight AF447 carrying Dr. Eithne Walls and her friends Dr. Aisling Butler and Dr. Jane Deasy, disappeared over the Atlantic on 1st June 2009.
Eithne was Senior House Officer in Ophthalmology at The Royal Victoria Eye & Ear Hospital Dublin.
The Eithne Walls Research Fund, established by Eithne's family, provides much needed support for the work of the Royal Victoria Eye and Ear  Research Foundation and keeps the memory of Eithne very much alive in a way she would have approved of – supporting her young colleagues in their research.
Each year, the Research Foundation holds the Eithne Walls Research Meeting. Trainee doctors are given the opportunity to present their work to their peers. This is key to continuing our work to advance education and development. Trainees who participate have the opportunity to be awarded the Eithne Walls Research Medal.
Young doctors who have taken part in the Eithne Walls Research Meeting have gone on to be part of crucial research projects bringing us closer to developing new treatments for conditions that cause blindness and deafness and broadening our understanding of how to treat and prevent eye and ear disease.
Each June Bank Holiday weekend Eithne's colleagues in the Royal Victoria Eye and Ear Hospital, friends and family, have come together to honour and celebrate her memory by running the VHI Dublin Women's Mini Marathon. Over the years, more than 60 runners have raised over €28,000.00 in Eithne's name.
On the 10th anniversary we are aiming to have our biggest turnout yet,  and would love for you to be part of it. Come along on the 2nd June 2019.
RUN FOR RESEARCH!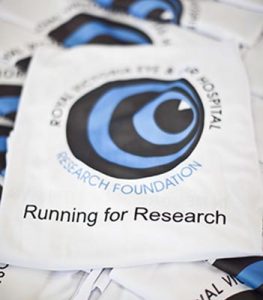 Enter your details below and we will be in touch.
If you can't join us on the 2nd June, you can always support our runners by making a donation here.
We would love if you can share this link with all your friends and family.
Information for you:
Race Date/Time: Bank Holiday Sunday, 2nd June 2019 at 2.00pm
Distance: 10K
Entry Process: All participants must enter either on the official Entry Form online at www.vhiwomensminimarathon.ie.
Entry Opening Date: 7th March 2019
Entry Closing Date: Mid May 2019 or when maximum number of entries is reached
Fee: €25.00 entry fee
Please Note: The number of entries to the race are strictly limited. To avoid disappointment, early registration is advised.
We meet at the Research Foundation, Royal Victoria Eye and Ear Hospital, Adelaide Road. All runners and walkers will receive a t-shirt. Drinks, snacks and refreshments will be served before and after the race.