Soapbox Science returned to the streets of Dublin on June 30th when 12 female scientists stepped onto their soapboxes to talk about their research in areas of science, technology, engineering, mathematics and medicine. RCSI was represented by Dr Joan Ní Gabhann from the Ocular Immunology Research Group (OIRG) and Remsha Afzal from the Mc Coy lab.
Soapbox Science is a global public outreach platform for promoting women scientists and the science they do. Its aim is to bring scientists to the streets to interact with the public and increase the visibility of women working in science. It follows the format of Speaker's Corner in Hyde Park, London which is historically an arena for public debate.
Since it was established in 2011, Soapbox Science has grown from one event in London, to dozens of annual events around the world. Nearly 1,000 scientists have taken part and 140,000 members of the public have attended Soapbox Science events to date. This year over 40 Soapbox Science events, including the Dublin event, are planned across 13 countries.
Soapbox Science Dublin is supported by University College Dublin (UCD), through a UCD Research and Innovation seed funding programme, and is being organised by Dr Dara Stanley, UCD and Dr Jessamyn Fairfield, NUI Galway.
Speaking in advance of the event, Dr Dara Stanley, UCD School of Agriculture and Food Science, said, "Many people have not met a scientist before so Soapbox Science brings scientists to the city streets to interact with people going about their daily lives. As women in particular are under-represented at many career stages in STEMM subjects, Soapbox Science aims to break down stereotypes around who scientists are by featuring a number of female scientists speaking on  a number of diverse topics."
She added, "Soapbox Science Dublin is free to attend and is great fun so please do come along and hear about some amazing science being carried out by twelve fantastic female scientists."
Remsha Afzals  session was entitled "Those big eaters do damage." During her presentation Remsha spoke about the research being conducted in the Mc Coy lab which is part of a concerted global effort to identify novel therapeutics for multiple sclerosis (MS) which can both limit inflammation but more importantly promote repair and regeneration of the damaged neurons. Remsha used a PACMAN inspired prop to demonstrate the groups research with nanoparticles that 'flip the switch' in inflammatory (M1) macrophages to turn them into tissue repairing anti-inflammatory (M2) phenotype macrophages.
Joan Ní Gabhanns session was entitled "Eye opening look at the role our immune system in dry eye disease." During her presentation Joan spoke about the research being conducted in the OIRG which currently focuses on identifying novel regulators of inflammatory responses, particularly in the field of autoimmunity and Sjogren Syndrome (SS) related dry eye disease, as there are no diagnostic tests or effective therapies for SS. Joan used props constructed to demonstrate a functioning healthy eye and a model of autoimmune-mediated dry eye disease. She described the research the group is undertaking in novel microRNA (miR) based therapeutics that function like a 'message in a bottle' to change how cells communicate in autoimmune conditions to put the 'brakes on' the inflammatory process and restore normal immune function.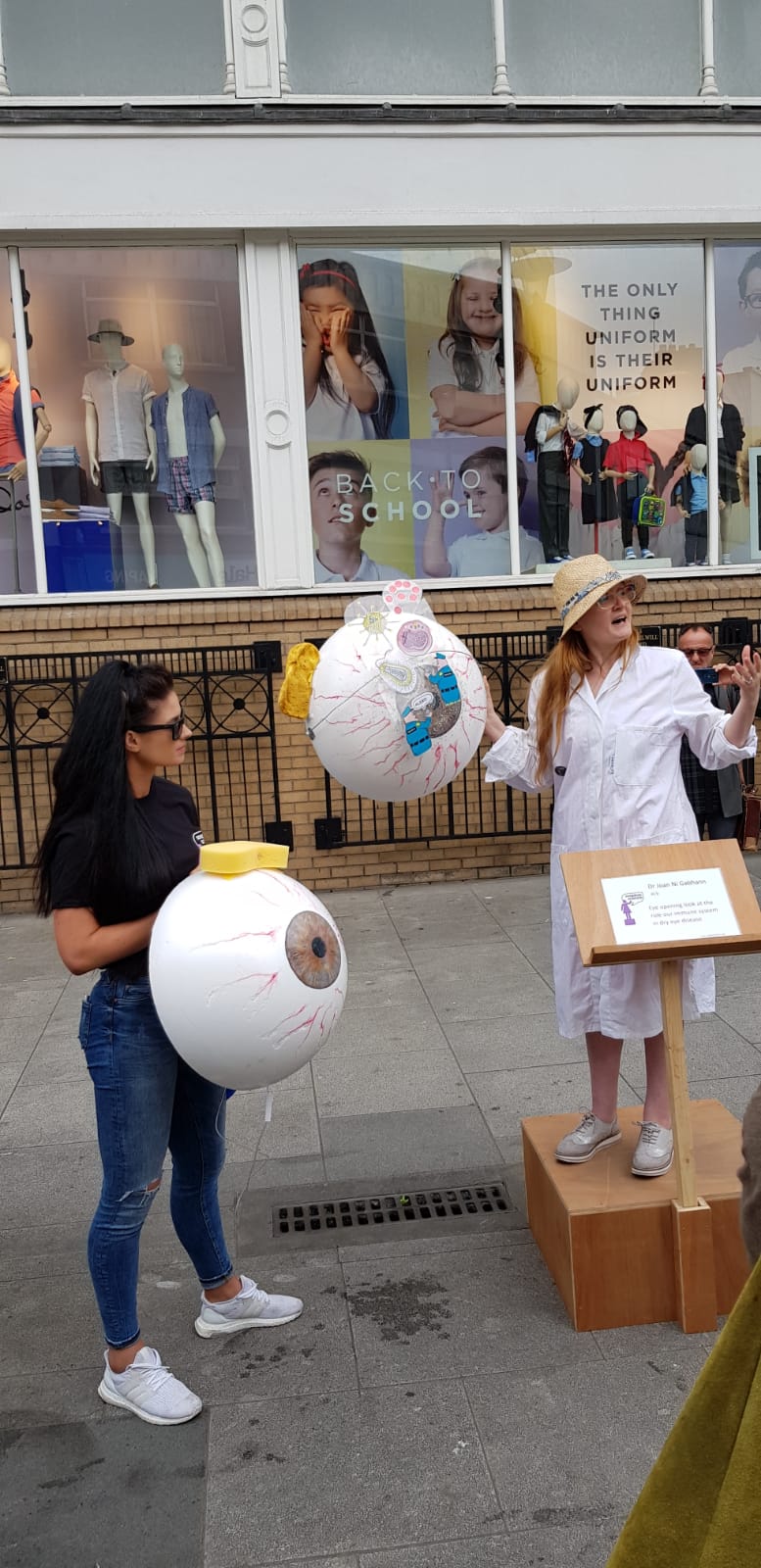 Joan Ní Gabhann (right) taking part in Soapbox Science