We are delighted to announce the
VIII New Frontiers in Ophthalmology Meeting 2020
'Fluid vs. Function in the Treatment of Wet AMD'
will take place as a virtual meeting
Thursday 8th October from 6pm to 7.45pm.
It has been a challenging year for all, and it gives us great pleasure to be able to bring this key educational event online, connect with our colleagues, and continue to provide a forum for learning and knowledge sharing in Ophthalmology.
This year's theme 'Fluid vs. Function in the Treatment of Wet AMD' provides to be an opportunity to come together and discuss this important topic with our speakers;
Professor Matthew Campbell of the Smurfit Institute for Genetics, Trinity College Dublin, (Biography)
Professor Robin Hamilton of Moorfields Eye Hospital, London, (Biography)
Ms. Andrea Ryan of the Royal Victoria Eye and Ear Hospital, Dublin.
Chaired by Mr. Mark Cahill, Royal Victoria Eye and Ear Hospital, Dublin
Programme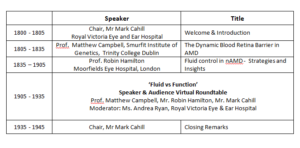 This meeting has been awarded 2 External Points & 0.5 Internal CME Points  by the Irish College of Ophthalmology 
1 CPD credit is equivalent to 1 hour of educational activity
We look forward to your joining us on the 8th October and be part of connecting with colleagues and peers through the first virtual New Frontiers in Ophthalmology Meeting.
You will be provided with an access link to the meeting following registration.
This meeting is supported by