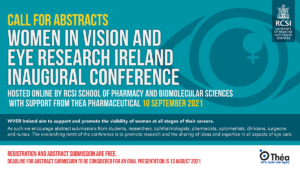 Call for abstracts
Women in vision and eye-research Ireland inaugural conference.
Hosted online by RCSI School of Pharmacy and Biomolecular Sciences with support from Thea Pharmaceutical 10 September 2021.
WVER Ireland aim to support and promote the visibility of women at all stages of their careers.
As such we encourage abstract submissions from students, researchers, ophthalmologists, pharmacists, optometrists, clinicians, surgeons and nurses.  The overarching remit of the conference is to promote research and the sharing of ideas and expertise in all aspects of eye care
Deadline to be considered for oral presentation is 13th of August 2021. If selected for an oral presentation, presenters will be required to prepare a 5-minute presentation and will be notified by email shortly after the deadline. Deadline for poster only abstract submission is the 20th of August 2021. If selected for a poster presentation, submissions are required on a PowerPoint slide by 3rd September for inclusion in the poster viewing booklet.